Norah Saarman, Ph.D.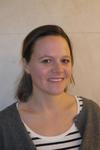 Postdoctoral Fellow in Ecology and Evolutionary Biology
Address:
21 Sachem St, New Haven, CT 06511-3706
My research in population genomics uses leading-edge technology and methodology to solve problems at the human-nature interface. Several such problems include the health and economic burdens imposed by fly-transmitted trypanosomiasis (sleeping sickness) in sub-Saharan Africa, and mosquito-transmitted viral infections in the Americas.  I am particularly interested in identifying the genetic basis of adaptive traits and using population and landscape genomics to improve vector and disease control.