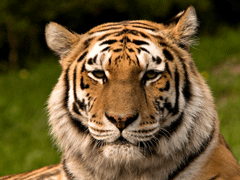 The Amur Tiger, Panthera tigris altaica, is a rare subspecies of tiger, also known as the Siberian, Korean, Manchurian, or North China Tiger, and is critically endangered. An initial survey of mtDNA levels of genetic diversity in the only wild population of this species was conducted. This was followed by a a screen of microsatellite variation and the development of a molecular test to identify sex from scat samples. We also screened for variation in the captive population, since our preliminary results suggested that this population harbored more genetic variation than the wild one. Collaborators for this project included: Michael Russello (University of British Columbia), Dale Miquelle (Wildlife Conservation Society, Russia), Philippe Henry (University of Northern British Columbia), Kathy Traylor-Holzer (AZA Tiger Regional Studbook Keeper) and several Yale undergraduates.
Publications
Russello, M.A, E. Gladyshev, D. Miquelle, and A. Caccone. 2004. Potential genetic consequences of a recent bottleneck in the Amur tiger of the Russian Far East. Conservation Genetics 5:707-713.
Henry, P., D. Miquelle, T. Sugimoto, D.R. McCullough, A. Caccone, M.A. Russello. 2009. In situ population structure and ex situ representation of the endangered Amur tiger. Molecular Ecology 18: 3173-3184
Media Coverage
Can China Save the Amur Tiger? by Richard Conniff. The Journal of the Yale School of Forestry & Environmental Studies, 2010.
Amur Tigers on 'genetic brink,' by Matt Walker. BBC, Earth News, 2009.
Rare Siberian tigers face potential genetic bottleneck, by John Platt. Scientific American, 2009.